Home
>
Groupbuy
>
1500W Water cooled handheld laser welding machine, CE certificate. 3in1,Welding/Cutting/Cleaning
Welding demo
Cutting demo
Cleaning demo
Torch demo
Description

Parameter

Model

HW-1500W

Interface of fiber-optical

QBH

Power range

Standard:1500W (2000W are optional)

Laser wavelength

1080nm

Working mode

Continuous/Modulation

Equipment power demand

single phase 220V , 3phase 380v is optional

Welding thickness

Click to download

The Welding Chart

Fiber length

10m

Weldable speed

90-100mm/s

Cooling mode

Water cooling

area covered

2.5*1M

Operating ambient temperature range

13-35℃
Why lightweld 1500 handheld laser welding system is so popular. If you are considering improving production efficiency, you may wish to consider a laser handheld welding machine.
● New generation technology, smaller size, lighter weight, more flexible mobile welding
● 3in1 gun for welding/cutting/cleaning ( The cutting nozzle is optional)
● Simple operation, beautiful welding seam, fast welding speed, and no consumables. It can perfectly replace traditional argon arc welding and electric welding for welding thin stainless steel plates, iron plates, galvanized plates and other metal materials.

● Advanced operators can customize presets, save for future use and can be used by novice operators to produce the same results.
● Ultra-low operating cost, the laser consumes only 1 to 1.5 degrees per hour; it can weld various thin metal plates;
● The system can be switched to different language:English, Chinese, French, Spanish, German, Arabic, Russian, Polish
● CE certificate.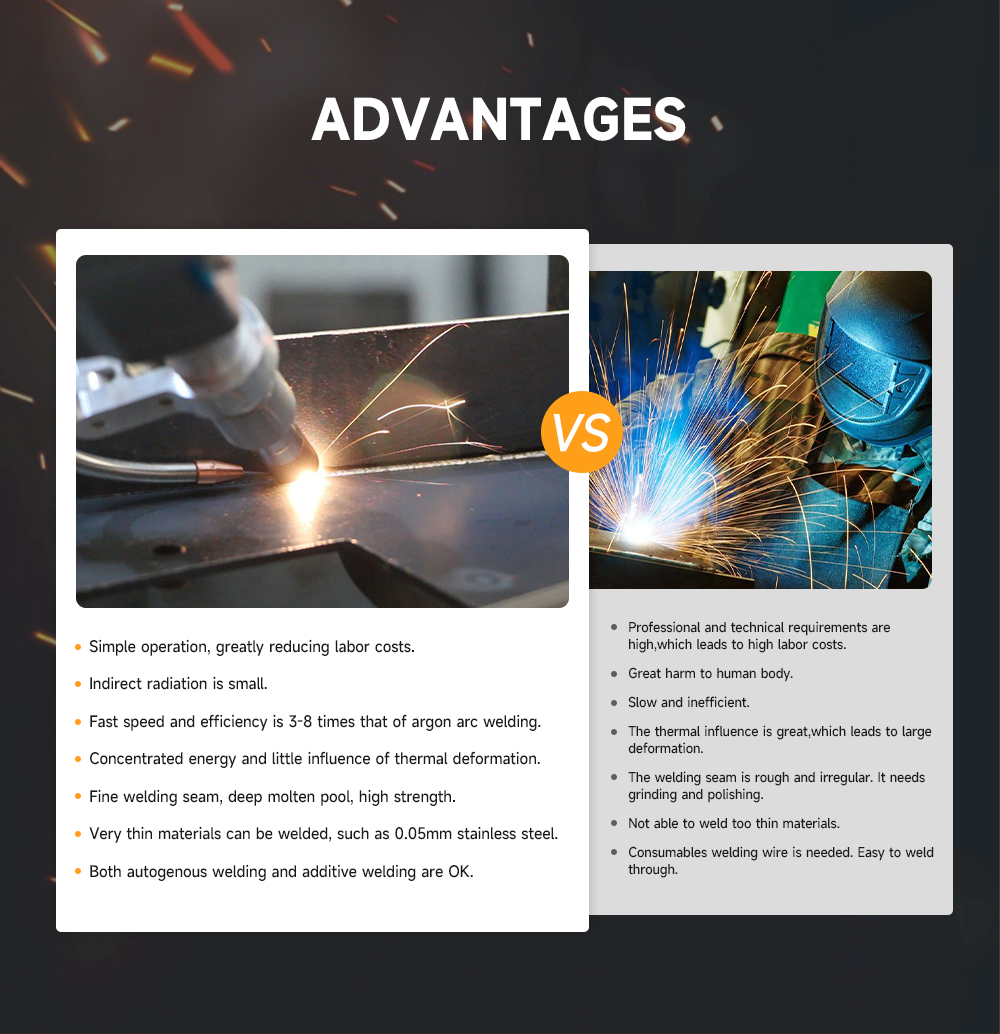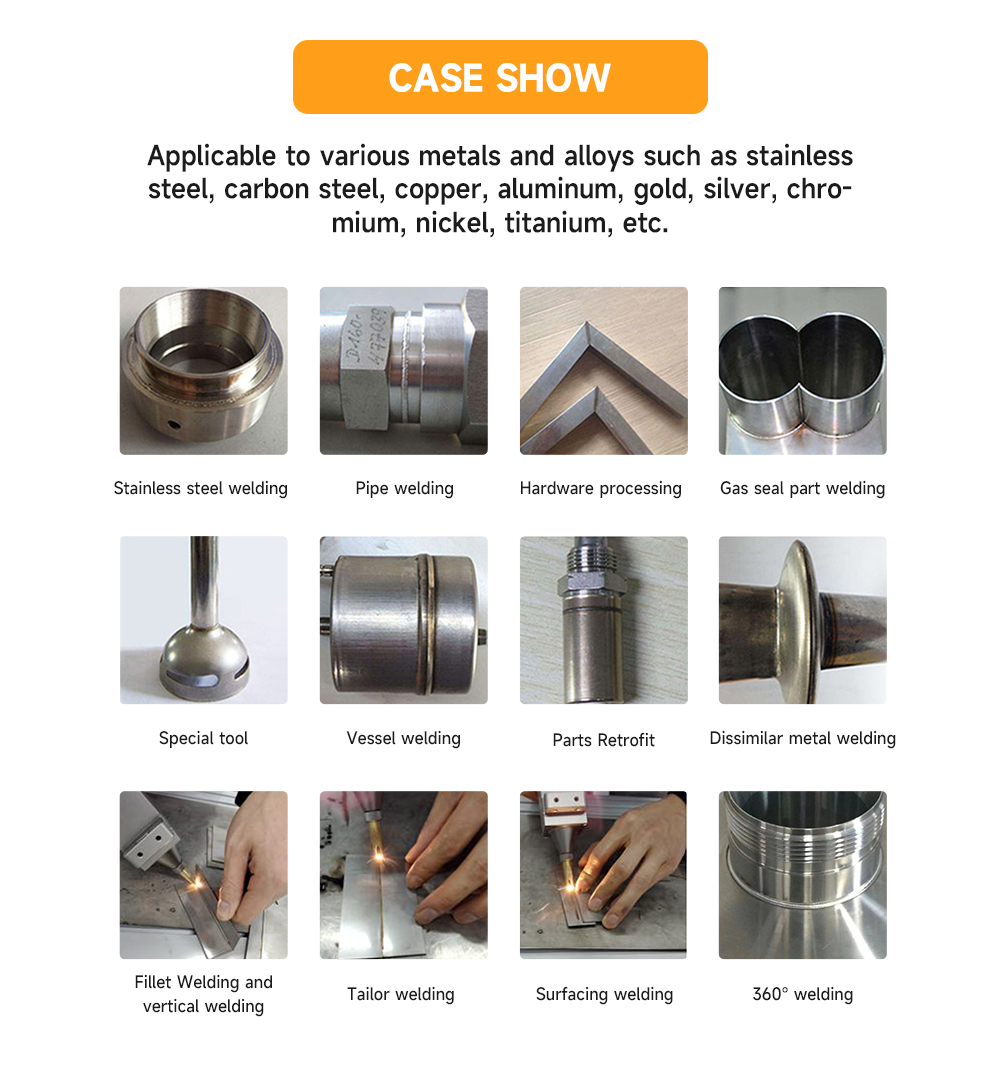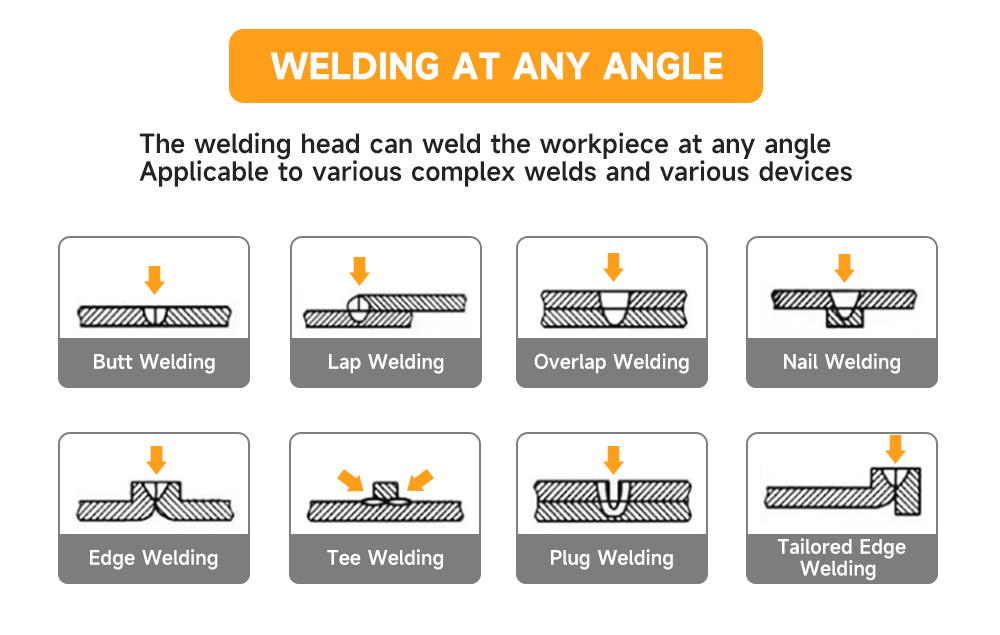 What's included?
Package 1 (include with the power source + laser gun + earth clamp & cables)
Dimension of the wooden box: 104.5*55*116cm(L*W*H)
Gross weight: 185kgs
Package 2 (inlcude with the auto wire feeder)
Dimension of the carton box: 62mm*32.5mm*46mm(L*W*H)
Gross weight: 18kgs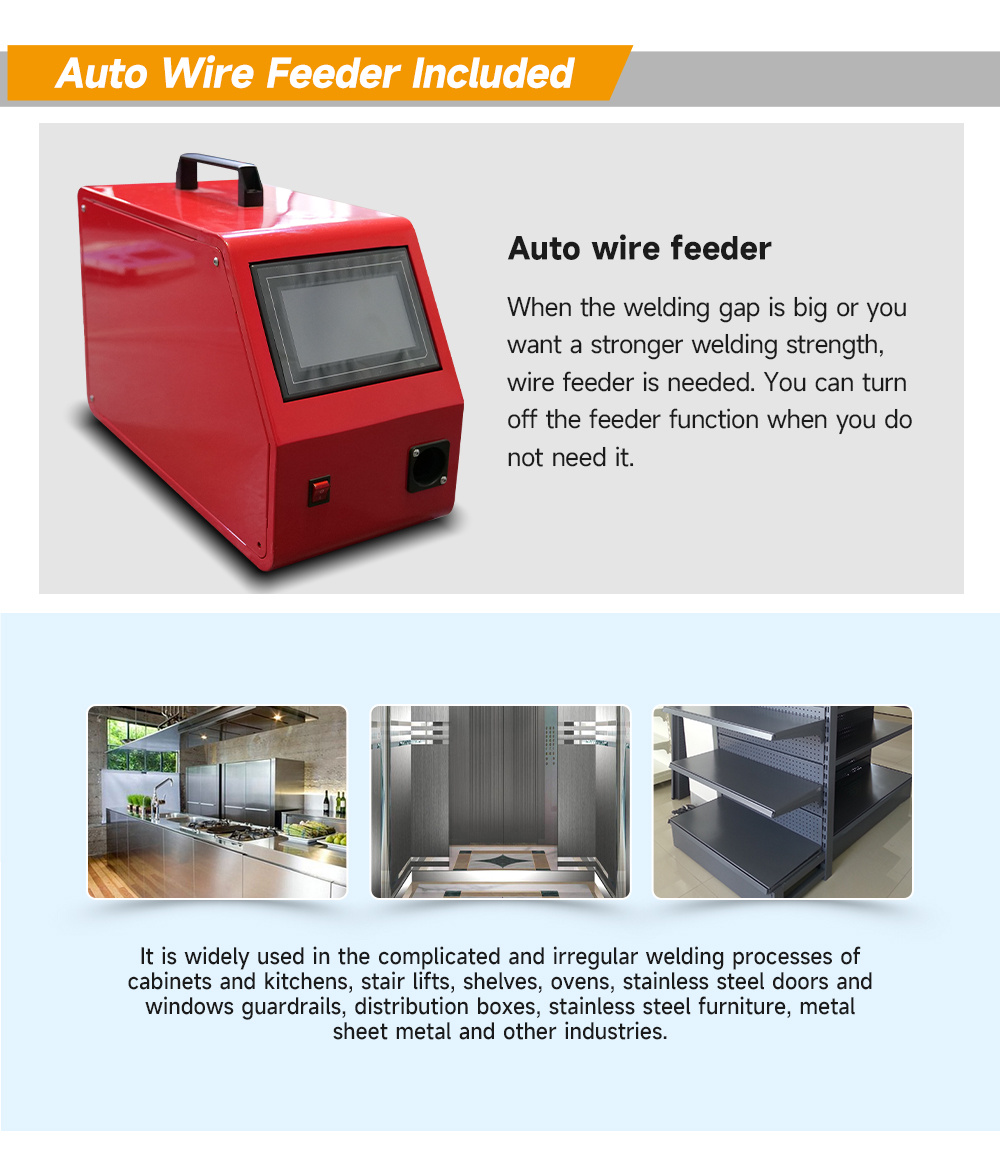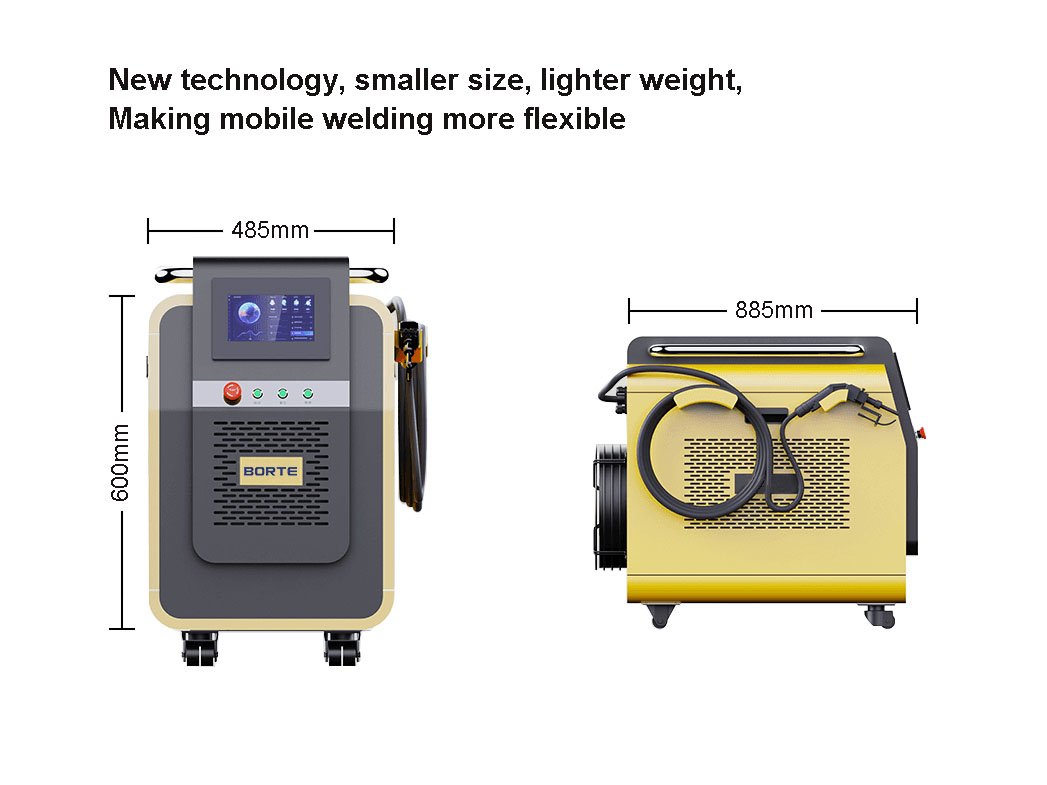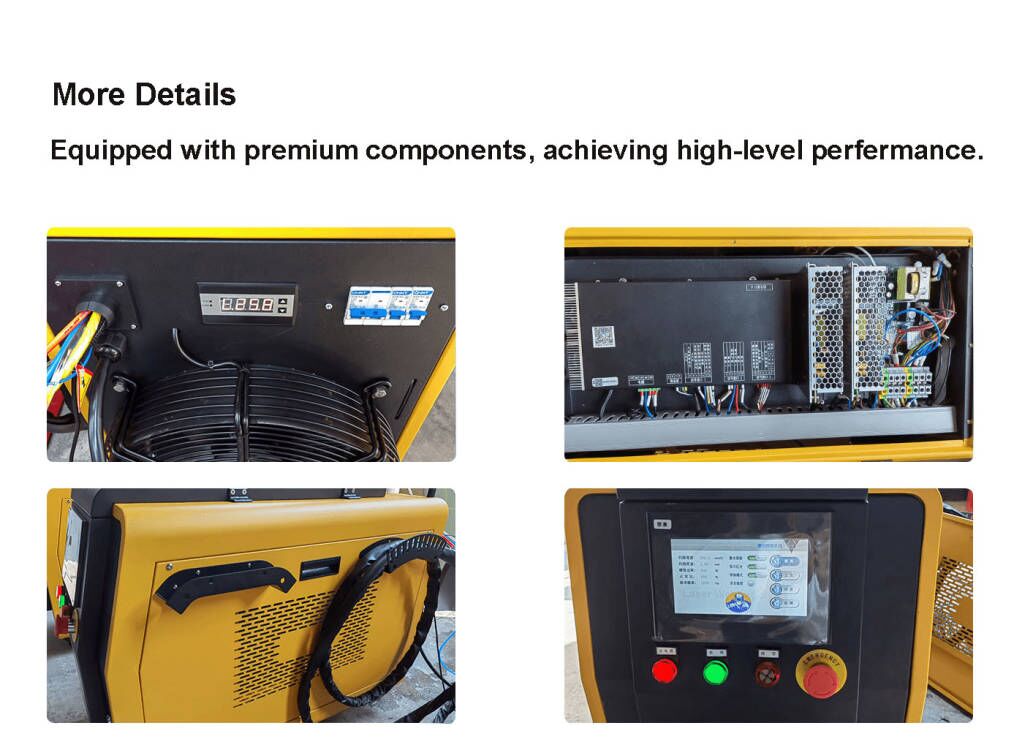 Q1: I want to weld stainless steel and mild steel, how to choose which laser power suitable for me?
A1: Which welding method you want to weld? But welding or vertical welding?
Following are the welding parameters for your reference, please have a look.
Machine model
BUTT welding maximum thickness
90 vetical welding maximum thickness
1500W handheld laser welder
Stainless steel:5mm
Gaivanized sheet:4mm
lron:5mm
Mild steel:4mm
Aluminum:3mm
Brass:2mm
Stainless steel:5mm
Gaivanized sheet:4mm
lron:5mm
Mild steel:4mm
Aluminum:3mm
Brass:2mm
2000W handheld laser welder
Stainless steel:6.5mm
Gaivanized sheet:5mm
lron:6mm
Mild steel:6mm
Aluminum:5mm
Brass:3mm
Stainless steel:6mm
Gaivanized sheet:5mm
lron:5mm
Mild steel:6mm
Aluminum:5mm
Brass:3mm
Note: *Why is the galvanized sheet welded less thick?
It is because during high-power welding of galvanized sheet, slag explosion is relatively severe, the welding effect is poor, and the loss of lenses is significant.
*For the thick plate welding, please pay attention to lower the wire feeding speed.
*Copper is not recommended to be welded. It's high reflective material and may lead to laser failure when welding long time.
*Data is for reference only.
Q2: What gas can be used on the handheld laser welding machine? Is the gas used as a shielding gas for the metal?
A2: Usually Argon gas and Nitrogen gas used as a shielding gas. It is used to protect the welding part from turning black. Use the shielding gas can make the welding part with nice welding effect, no need to do further polishing process again.

Q3: What material would i use Argon and which material would i use Nitrogen?
A3: Actually both Nitrogen and Argon can used for all materials. Like: Stainless steel, mild steel, carbon steel, iron, aluminium, brass, etc. You can choose to use Nitrogen or Argon as shielding gas according to your market price.

Q4:On average, how long does a laser welding job take?

A4:Laser welding jobs can vary in length of time and do not necessarily have an average. Is it a 1 pc job or a 100 pc large quantity project? However, statistically the numbers show the time it takes to complete a job is between 2-3 hours.

Q5: There is a water cooler in the welder, Can it be filled with tap water ?

A5: The best way is to use purifed water and distilled water for the machine. As we know that if the tap water have some impurity inside, the machine can not get good environment water for cooling. If long time do it like this way, the machine laser source and welding head life time will be shortly than using purified water or distilled water. If the water is not purified, the welding head and laser source easy broken. Because impurity have some unknown materials
Q6:What feed wire size should I utilize for laser welding?
A6:This question depends much on the size and material of the actual project. How much weld does it need? Is there a chance that adding too much heat can warp or cause discoloration to the project area? If there is specific detail or exiting feature in the weld area than it is best to use a smaller wire and proceed slowly with caution. Wire size is more dependent on the project at hand and not necessarily the material unless it is laser welding aluminum, copper, or other softer metals.

Q7:How to avoid air pockets in the project material when laser welding?
A7:Air pockets are a common problem with all types of welding and not just in the laser category. The chances of air pockets will reduce and or go away with experience, understanding the proper settings, making sure you have proper gas coverage, and sometimes decreasing your weld speed to make sure you get a better melt in the weld area.
Q8:What is the difference between chrome plating and laser welding?
A8:If the project consists of a large scale weld surface then laser welding may take a really long time to complete so chrome plating could be the better solution. Chrome plating cannot be machined, only ground so this process must also be taken into consideration when deciphering between the two options. With every job comes an in-depth analysis, but in most cases, laser welding can be done with a faster turn around time and will machine off better. Chrome plating always has the chance of peeling if done incorrectly.
Q9:What materials cannot be laser welded?
A9:There are some materials that tend to be difficult to weld, but it most cases laser welding can be done. Some common examples of materials that provide to be difficult to laser weld are sintered metals, D-2, A-2, and tungsten carbide. However, laser welding is relatively new and research continues to be conducted within the material science category to create more diverse opportunities within the manufacturing world.
There are currently no optional accessories for this item.